Founder
Staff member
Admin
To download tutorial files and videos of Dr-Bios.com , you need to upgrade or purchase membership after completing the registration process.
And then, after logging in to your account, click on the link below:
https://dr-bios.com/account/upgrades
After choosing your desired plan, you can automatically connect to the bank gateway and you can renew or purchase membership.
When the payment has been made, your account will be activated automatically and you can use the website services.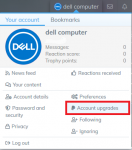 Thank you so much for supporting Dr-Bios.com by purchasing memberships
Last edited: