Today's video is about repairing Dell Inspiron N5110 laptop with short circuit problem due to being intensely burned which has caused a part of PCB to be completely removed.
The video below shows you how to properly fix the damaged parts and repair the device.
Enjoy and don't forget to comment
This Video is dubbed into English.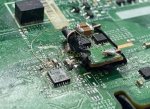 Last edited by a moderator: