Founder
Staff member
Admin
You might see this message before the Computer Starts, you may program the bios many times but the error has not removed!
The message shows that the serial number is not entered, or entered incorrectly, after replacing the system board or other component information manually, the problem solves.
In this tutorial video we show you how to fix product information not valid error on HP laptops.
How to Fix Product Information Not Valid Error on HP Notebooks.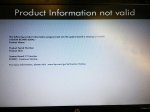 Last edited: