Staff member
Admin
Registered

If your Asus laptop has a Bios password, you can easily remove the password without opening the laptop. All you need to do is to press "Alt" and "R" keys simultaneously on password page. A date will be displayed as shown in the picture below. Please send us that date so that we can send you the password.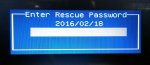 Important Note:
After sending us the date, do NOT turn OFF or restart the laptop because that way, the date may change and the password will change if the date changes.
If you want to unlock Asus laptop Bios password, share a new post
in this section
!
Last edited: