Staff member
Admin
Registered
The firmware or Bios password of MacBooks is different from the Administrator or Login password. The password appears immediately after booting and needs to be entered on a page that comes with a lock symbol and a black or gray background. As in the pictures below: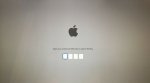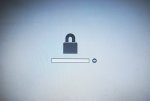 If your MacBook is locked due to one of the 2 reasons shown in the photos, first check laptop specification and see in what year the laptop is made. if it was released before 2011, you only need to follow the steps below:
1- Shut down the laptop and remove the battery.
2- Locate your RAM, remove one of the RAM modules and put it aside.
3- Put the battery in, and turn ON your laptop while pressing the Command + Option + P + R keys
4- Wait until you hear beep for 3 times.
5- Release the keys and shut down the laptop.
6- Remove the battery again, and reinsert the RAM module.
7- Put the battery back in.
8- Turn ON your Mac, and you won't see the firmware lock again.
But if your laptop is newer and was released after 2011, you need to open your Macbook and get backup from its Bios IC (Note: Since this requires special tools and soldering, we suggest that if you are not a laptop repairman, don't take any actions and go to a skilled repairman).
If you want to unlock Apple laptop Bios password, share a new post in this section!
Please attach Bios backup file + device serial photo + motherboard model + photo of the password type along with the request.
Last edited: