Founder
Staff member
Admin
Please note the followings while requesting Microsoft Surface Bios file, so that we will be able to respond as quick as possible.
Be sure to mention the device's full Model and Type. Example: Surface book 2 , Surface Pro 4
Make sure to mention the Motherboard Model. Example: X911788-009
For requesting Bios file of Surface devices, Make sure to mention their specifications such as, CPU, SSD, and RAM. Example: i5 6300U / 8GB RAM/ 256 GB.
Make sure to attach the Bios backup. And if it has EC, attach the EC backup as well.
If Me Region of the Bios file needs to be edited, please mention it in your request.
If the Bios file sent by the support team did not solve your problem, please do Not submit a new request. Instead of that, please mention it in your first submitted request.
If you couldn't detect the motherboard model, please send 2 clear photos from both sides of the motherboard.
⚠ Please note that motherboard model is written on board itself, so make sure to check under labels and…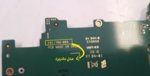 Last edited: